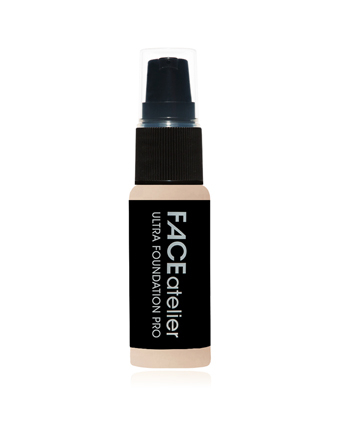 In packaging developed for professional makeup artists, FACE atelier Ultra Foundation Pro features Ultra Foundation in a smaller, lightweight and unbreakable container that's ideal for travel and perfect for a makeup artist's kit. It's become an iconic pro must-have and the full set now includes 27 shades, including 8 adjusters. Go to Pro Tips for the 411 on our new shades: 1.5 - 2.5 - 3.5 - 6.5 - 11.5 - olive - blue.
Ultra Foundation, the heart and soul of FACE atelier and the star of the line, is an innovative approach to foundation that allows you to be in control. It's a highly pigmented, long-lasting innovative foundation that provides buildable coverage with a natural-looking, dewy finish. Silicone-based Ultra Foundation is sheer enough for younger women, yet can meet the needs of anyone that requires more coverage. It's an out-standing performer on mature, troubled or sensitive skin. Due to its unique blend of silicones in the formulation, Ultra Foundation forms a delicate, lightweight and flexible second skin with a natural breathing ability. Read more about silicones.
No primer needed! It's built into Ultra Foundation, thanks to the super sophisticated, silicone-based formula. Another bonus - it sets without powder, preserving the dewy finish - and has soft-focus properties that diminish the look of fine lines and wrinkles.
Offering 18 shades, Ultra Foundation is AGE and RACE NEUTRAL, unique color adjustors - Zero Minus, Zero Plus, Zero Plus Plus, Heat and Blaze. The adjusters will lighten or darken a shade as desired. Superstar Heat can be used to warm them up and doubles as an ideal blush for women of color. The result is your very own custom foundation all year round, even as your skin tone changes with the seasons. Moisture, heat and sebum resistant.
FACE atelier is one of my favorite lines of makeup. I love every product & that's difficult to say about a whole makeup line. There is an excellence in the quality of the products that positions them at the top of the industry. Ultra Foundation has the most beautiful finish I've seen of any foundation available. It maintains flawlessly throughout long days. There is constantly fabulous press about how flawless & gorgeous my client, Miranda Lambert's makeup looks.
Holly Chapman, celebrity makeup artist
Awesome shoot today for @xexmag with Dominic Adams, star of "Devious Maids".
Makeup by T. Cooper using @FACEatelier pic.twitter.com/GvNmKCqD7V

— T. Cooper (@TCoopMUA) May 23, 2014
Because of Ultra Foundation's ultra-concentrated pigment level, a little goes a long way and it easily builds from sheer to full coverage. It's a light-weight emulsion that perfects skin tones and floats on the skin and can also be used to custom tint a moisturizer.
The silicones in Ultra Foundation's top-secret formulation create an optical blurring effect that diminishes the look of fine lines and wrinkles, creating the illusion of a smoother, more uniform skin with a naturally dewy finish. No wonder it's the foundation of choice for stars like Kelly Clarkson and Lady Gaga!
It's worth repeating that thanks to Ultra Foundation's silicone-based formula, no primer is needed. And it's the perfect primer for eyes and lips.
Ultra Foundation's oil-free formula hydrates skin and does not require powder for setting. Not having to powder means you can preserve your skin's dewy finish. Powdering often accentuates the look of fine lines or wrinkles and every makeup artist knows that's aging!
The silicones in the formula ensure a long lasting, moisture, heat and oil-resistant finish that doesn't crack, settle or fade. That's because the silicone molecule is bigger than human pore, enabling it to float on the skin without settling into pores, fine lines or wrinkles. It also has soft focus properties that create optical blurring, diminishing the appearance of fine lines and gives the illusion of smoother, more uniform skin. Ultra Foundation stands up in the most humid and dry environments.
Why no SPF? It's no secret to pro makeup artists that products with SPF flash white. Ultra Foundation is THE product of choice if you're anywhere near a camera. More importantly, SPF isn't effective in cosmetics! We urge you to find a good sunscreen and use as directed. Read more about SPF.
Dermatologists report that a silicone-based foundation is the ideal makeup for rosacea, in part because of the silicone in the formula creates skin-barrier protection. Shades 1 – 8 are yellow-based, and will cancel out much of the red caused by rosacea or other skin conditions. Read more about about the benfits of silicone.
Key Ingredients
Cylcomethicone l Cetyl Dimethicone - Silicones are derived from silica that is derived from quartz, the second most naturally occurring mineral on earth. They impart emolliency and significantly enhance a product's lifespan and effectiveness. They create a soft, smooth product that is pleasant to apply and, in the case of cyclomethicone, impart a unique skin feel. Silicones are naturally water resistant while absorbing sebum (the oily substance produced by certain glands in the skin), thus reducing skin shine. Their molecules are larger than human pores, preventing them from settling into them upon application. The unique molecular structure of silicones (larger molecules with wider spaces between each molecule) allows them to form a breathable and protective barrier between skin and the product. They also have unique healing and protecting properties. Silicones ensure an even application of other ingredients and leave behind a silky, almost imperceptible feel that noticeably enhances the skin's texture and appearance.
Glycerin - present in all natural lipids, it's a humectant that helps prevent dryness and scaling. When combined with other emollients like silicones, it moisturizes while helping skin heal, reduce associated skin conditions as well as enhance the skin's natural protection. It also helps skin cells mature properly and may heal wounds more quickly.
COLOUR THEORY 411 - NEW SHADES + ADJUSTERS
#1.5 is a true neutral – it has equal amounts of yellow and red. It will balance the skin tone of your fair client. 1.
#2.5 is a light, neutral vanilla with a touch of yellow to warm the skin. It sits #2 and #3 that both have a noticeably yellower undertone.
#3.5 has a unique peachy pink tone for light medium or dark fair skin and is the beginning of the range for most male skin tones.
#6.5 bridges the gap between our best selling midtone shades: #6 – the dark end of medium and #7 - the beginning of shades for olive skin. It's a richer, dark medium shade that has just enough red. IT's particularly suited to male medium skin tones that ten to be darker and redder than medium female skin tones
#11.5 was first created as the go-to shade for dark olive tones for the Ultra Skin range. It's a unique olive shade that sits perfectly between the yellow/reddish undertone of #11 and the complex neutrality of #12.
The new olive adjuster is a combination of yellow and blue (that makes green) The blue in olive neutralizes undertones and thanks to the yellow, won't dull the skin. This incredibly versatile shade will neutralize and add depth to darker southeast Asian, brown skin tones and most black skin tones. It also neutralizes the redness in Asian/brown skin tones. Black skin tones are getting the best of both worlds. In addition to neutralizing redness, the combination of yellow and blue gives these skin tones more life and brightness.
The new blue adjuster neutralizes or cools lighter shades and can actually be used to deepen darker shades.
BACK TO BASICS
Shake well before using (silicone is lighter than pigment) and apply with FACE atelier's Foundation brush to ensure smooth and hygienic application. Use sparingly on moisturized skin as a little goes a long way!
Start in the T-zone and work your way out, patting it onto the skin – no long swipes. The pros call this "stippling." It has a longer drying time so it moves for quite a while. Reapply for more coverage before you reach for a concealer.
If you've oily skin, moisturize lightly and use Ultra Matte before application or mix into Ultra Foundation. You can also use it throughout the day - and night - to keep your oily skin under control.
Ultra Foundation shades 1 - 8 have yellow undertones. If a lighter shade appears pink, it means that it's the wrong shade.

Use innovative Ultra Foundation Heat to warm up foundations or as the perfect liquid blush for darker skins. Dab a touch of Heat on hyper-pigmentation around the hairline, mouth and chin on richer skins. Then watch it disappear!

Mix with your face cream to create a custom tinted moisturizer.
Use Ultra Foundation over sunscreen for a virtually water-proof finish. We don't claim that it's completely water-proof although a lot of makeup artists insist it is. It will definitely survive a day at the beach, including an hour-long snorkel. (Ask our CEO if you don't believe us!)

You can use Ultra Foundation corrector shades Zero Minus, Zero Plus or Zero Plus Plus before applying foundation to highlight and contour.
PRO ALERT – Ultra Foundation is the only foundation you need in the your kit. It gives the skin a finish that's red carpet, paparazzi and film-ready. And Ultra Air allows you to use Ultra Foundation in your airbrush, eliminating the need for two foundations in your kit. Yippee!
BRIDAL ALERT - Ultra Foundation's long-lasting finish will ensure that you're picture perfect and camera ready all day and night long. It's impervious to tears - no streaking! - making it THE foundation for brides of any age and race. Why else would it be the only makeup line offered for sale at Kleinfeld Hudson's Bay in Toronto?
You're one step closer to owning this product!
Ultra Foundation Pro has been added to your cart