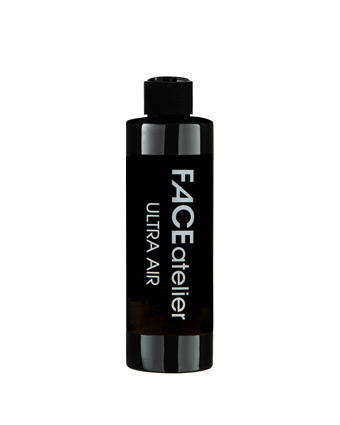 Thanks to ingenious Ultra Air, Ultra Foundation can be used in any airbrush without sacrificing its natural looking, flawless finish! This innovative silicone product does triple duty as an airbrush thinner, cleaner and mixing medium. Ultra Air's sophisticated formula includes a drying accelerator and allows for immediate touch-ups without marring the finish or leaving fingerprints while enhancing long-term wearability. The colorless, oil-free formula won't affect the shade of the product thinned and can be used to change opacity as desired. Heat, moisture and sebum resistant.
100% silicone formula results in a finish that's heat, moisture and heat resistant
With Ultra Air, you only need one kind of foundation in your kit!
Create custom levels of sheerness based upon the amount of Ultra Foundation you use with Ultra Air. Bonus - its formula doesn't dry to a rock-hard state when you're done, requiring tedious breakdown and scraping to remove from your airbrush.
Key Ingredients
Cyclopentasiloxane – A member of the silicone family, this ingredient has a unique fluidity that makes it easily spreadable. It gives skin a silky feel and acts as a mild water repellant by forming a protective barrier. It can also fills in fine lines and wrinkles, giving the face, smoother, younger look.
Isododecane - A hydrocarbon ingredient often used as an emollient in skin care products. Thanks to its low viscosity and density, it has a high spreadability and is essentially weightless when applied on the skin.
Create a custom Ultra Foundation airbrush shade by putting 2-3 drops in the bowl of your airbrush gun; then add 1 – 2 pumps of Ultra Foundation.
Ultra Foundation sprayed with Ultra Air will set without powder, but if you do over-powder, a light spray will restore its dewy finish.
You can re-spray to conceal without visible buildup.
Combine Ultra Air with loose or pressed pigments to create an easy-to-use and long lasting paint or sprayable product that will set without cracking, flaking or fading
As a mixing medium, combine Ultra Air with loose or pressed pigments and powders to create an easy-to-use cream or sprayable product with a dewy, long-lasting finish that's heat, moisture and sebum resistant.
PRO ALERT – you can use Ultra Air as a binding agent when you're creating custom eye shadow shades from loose pigments.
Ultra Air Q + A
How do I use Ultra Air in my airbrush system?
To create your own custom-match airbrush shade simply put 2-4 drops of Ultra Air mixing medium into the bowl of your airbrush gun and then add 1-2 pumps of Ultra Foundation in the shade of your choice to the fluid. It is best to try to ensure the foundation colour(s) are placed into the fluid at the bottom of the bowl as opposed to dripping down the walls of the bowl to ensure product is not wasted. To mix, secure your airbrush lid or cover the exposed top with a tissue and "back-bubble" (technique that involves covering the tip of the airbrush gun with a finger and releasing the single-action/dual-action lever so that air is pushed through and since it cannot be driven through the tip of the gun it is pushed through the hole in the opening of the bowl resulting in small air bubbles that will mix any product contained inside).
Why won't the product spray through my airbrush?
If you mix Ultra Air with Ultra Foundation in your airbrush gun and the mixture does not seem to be spraying at all, unevenly or splattering when you attempt to apply it, you should try one of the following options: a) Ensure your airbrush is freshly cleaned and unclogged prior to placing any product inside your airbrush, remove your needle carefully and wipe it with a damp cloth to un-cake any residue from previous makeup applications and try again, b) Check that the air pressure/PSI setting of your air compressor is between 8-25 (depending on the area of the body you are wishing to cover) to provide enough air flow to push through the density of fluid you have concocted, or c) Add another drop of Ultra Air to further thin the formula and re-mix using the back-bubbling technique described above.
What level of coverage can I attain?
The best thing about Ultra Air is that you can create custom levels of sheerness/opaqueness based on the amount of Ultra Foundation you add to the airbrushing fluid. In use, you should apply "Ultra Air-Foundation" in swift circular motions as you would apply any other airbrush-friendly product, go over the area as many times as is necessary until your desired level of coverage is achieved. For ultimate coverage, begin with a thin base of Ultra Foundation applied with a foundation or buffing brush and then use the same shade of Ultra Foundation in your airbrush gun along with Ultra Air to build up opacity where needed.
How often should I clean my airbrush after using Ultra Air?
The beauty of the Ultra Air formula is that it does not dry to a rock-hard state that requires tedious break-down and scraping to remove. It is best to clean your airbrush gun soon after each application to ensure that your colour does not mix with a previously used shade that was not removed as well as to avoid clogs and damage to your airbrush gun. Between makeup applications simply add another 1-2 drops of Ultra Air mixing medium into your bowl (and do not mix) as this will thin down the consistency further so you can spray it through the gun until the mixture sprays clear, then add another drop to begin airbrushing your next face with a new foundation mixture. For quick cleaning before packing your airbrush away, back-bubble and then spray through your regular airbrush cleaning fluid and wipe down bowl as well as needle of leftover residue. (FACE atelier Melt or Brush Buff can also be used in a pinch!)
You're one step closer to owning this product!
Ultra Air has been added to your cart