Meet Ultra Skin - the ultimate lightweight foundation! Its silicone-based formula perfects the skin with a long-lasting satin finish with light to medium buildable coverage. The creamy, soufflé-like texture produces an airbrush-like result and is perfect if you want a foundation that can be applied like a moisturizer without compromising performance. Ultra Skin's 11 shades cover the lightest to richest complexions and are color-matched to award-winning Ultra Foundation. There are three new shades - .5, 8.5,11.5 – that can be also used to adjust Ultra Foundation shades.
No primer needed! It's built into Ultra Skin's sophisticated formula that also has soft-focus properties, diminishing the look of fine lines and wrinkles. The flawless, satin finish doesn't need powder to set and thanks to the silicone-based formula, it's ideal for mature, troubled or sensitive skin. Read more about silicones.
Ultra Skin works in perfect harmony with the FACE atelier's complete complexion range, including Ultra Foundation's beloved adjusters: 0-, 0+, 0++ and Heat. The pump applicator and tube make it perfect for travel or a pro kit. Suitable for all skin types, water and sebum resistant Ultra Skin performs brilliantly in hot, humid and arid climates.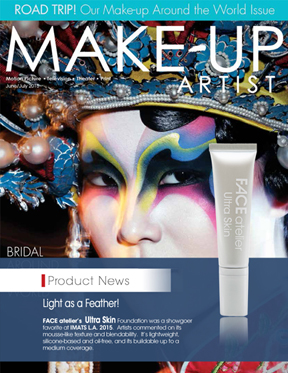 The silicones in Ultra Skin's formulation create an optical blurring effect that diminishes the look of fine lines and wrinkles, creating the illusion of a smoother, more uniform skin with a unique satin finish.
The oil-free formula hydrates skin and does not require powder for setting.
The SPF-free formula allows you to choose the best suncreen for your skin but remember that SPF products will flash white. More importantly, SPF isn't effective in cosmetics. We urge you to find a good sunscreen and use as directed. Read more about SPF.
The silicones in the formula ensure a long lasting, moisture, heat and oil-resistant finish that doesn't crack, settle or fade. The silicone molecule is bigger than human pore, enabling it to float on the skin without settling into pores, fine lines or wrinkles. It also has soft focus properties that create optical blurring, diminishing the appearance of fine lines and gives the illusion of smoother, more uniform skin. Ultra Skin performs well in any weather, from stifling humidity to cold, dry winter conditions.
Dermatologists report that a silicone-based foundation is ideal if you suffer from rosacea, in part because of the silicone in the formula creates skin-barrier protection. Silicone's large molecules prevent it from being absorbed by the skin. In addition, Ultra Skin's undertones will cancel out much of the red caused by rosacea or other skin conditions. Read more about the benefits of silicone.
Key Ingredients
Cylcomethicone l Cetyl Dimethicone - Silicones are derived from silica that is derived from quartz, the second most naturally occurring mineral on earth. They impart emolliency and significantly enhance a product's lifespan and effectiveness. They create a soft, smooth product that is pleasant to apply and, in the case of cyclomethicone, impart a unique skin feel. Silicones are naturally water resistant while absorbing sebum (the oily substance produced by certain glands in the skin), thus reducing skin shine. Their molecules are larger than human pores, preventing them from settling into them upon application. The unique molecular structure of silicones (larger molecules with wider spaces between each molecule) allows them to form a breathable and protective barrier between skin and the product. They also have unique healing and protecting properties. Silicones ensure an even application of other ingredients and leave behind a silky, almost imperceptible feel that noticeably enhances the skin's texture and appearance.
We always recommend using a Foundation brush to ensure smooth and hygienic application, but thanks to Ultra Skin's unique, user-friendly formula and pump applicator, fingers are allowed. Regardless of how you apply it, use sparingly as a little goes a long way!
Start in the T-zone and work your way out, patting it onto the skin – no long swipes. The pros call this "stippling." Reapply for more coverage as needed.
Don't automatically reach for the powder after applying Ultra Skin. It sets by itself to a flawless, satin finish. If you powder, do so sparingly as too much will accentuate skin imperfections as well as fine lines and wrinkles.
It is possible to over-moisturize skin before makeup application. Face Finish is the perfect way to hydrate without slip. The natural cucumber extract in the formula also reduces puffinesss and redness. Use it after makeup is done to preserve and throughout the day if your skin feels dry. Undetectable Face Finish hydrates your skin and revives your makeup without buildup.
BRIDAL ALERT - Ultra Skin's long-lasting satin finish will ensure that you're picture perfect and camera ready all day and night long. It's impervious to tears - no streaking!
PRO ALERT - SPF-free Ultra Skin delivers a flawless, HD-friendly satin finish. It's a brilliant performer in all setting and climates. And it blends beautifully with Ultra Foundation.
You're one step closer to owning this product!
Ultra Skin has been added to your cart