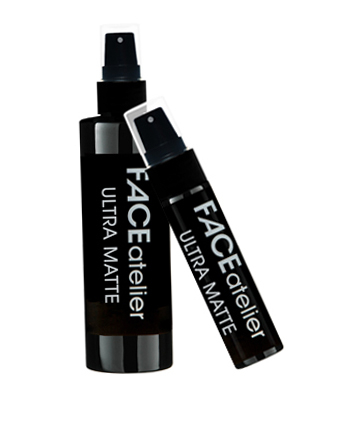 Innovative Ultra Matte is the first ever silicone-based spray mattifier that allows you to banish shine before, during and after makeup application without dulling the skin. Its revolutionary formula also contains optical blurring pigments that provide microscopic reflection, minimizing the look of fine lines and wrinkles for an overall softer, more youthful appearance. The silicone formula is heat, moisture and sebum resistant.
I used Ultra Matte on Britney Spears for the entire Work Bitch video. Kudos to FACE atelier for an amazing product! It stood up to the extreme conditions we were shooting in, especially the desert.
Ozzy Salvatierra - celebrity makeup artist
Ultra Matte is slightly different because it is not a setting spray. It takes away the shine on the skin...you spray it on and you think 'aww, my face is still greasy'. Then 10 minutes later it's not, it's matte. It's a great great setting spray. This mist... just kinda disappears into the cosmos. It's a beautiful beautiful thing for those of you with oily skin.
Wayne Goss - celebrity makeup artist
Also, I'm not usually one to post about make-up but right now I'm loving @faceatelier's "ultra matte", "facade", and t… http://t.co/LKpgdJru

— Kelly Clarkson (@kelly_clarkson) March 6, 2012
Ultra Matte is the perfect prep for oily skin as it reduces shine while preserving the skin's natural finish and your makeup.
Ultra Matte contains optical blurring ingredients that minimize the look of fine lines and wrinkles.
Unlike powder, Ultra Matte won't build-up and can be used throughout the day as needed. It is undetectable by the most sophisticated HD technology
Key Ingredients
Cyclopentasiloxane – A member of the silicone family, this ingredient has a unique fluidity that makes it easily spreadable. It gives skin a silky feel and acts as a mild water repellant by forming a protective barrier. It also fills in fine lines and wrinkles, giving the face, smoother, younger look.
Isododecane - A hydrocarbon ingredient often used as an emollient in skin care products. Thanks to its low viscosity and density, it has a high spreadability and is essentially weightless when applied on the skin.
Hold Ultra Matte about 12 inches away from your face and spray each side of the face once. It sprays on dry so you can't feel it but trust us – it's there and it's working! You can then buff it in using a fluffy brush with or without a dusting of loose or pressed powder on it.
Versatile Ultra Matte can be applied before makeup application and/or applied after makeup is complete to the entire face, t-zone and other oily areas. You can also spray Ultra Matte directly into your foundation before you apply it.
There's NO buildup up regardless of how many times you use it.
If you've really oily skin, use a minimal amount of moisturizer before applying makeup, especially in hot, humid weather.
PRO ALERT – Ultra Matte is an exceptional alternative to powder, particularity if you're using it in a HD environment. HD technology picks up powder so your photographer will thank you for making his retouching job easier. And Ultra Matte is perfect for bald heads!
BRIDAL ALERT - Ultra Matte is everyone's best friend on a wedding day, or for any special occasion, regardless where it is. It defeats hot, humid weather as well as nerves!
You're one step closer to owning this product!
Ultra Matte has been added to your cart