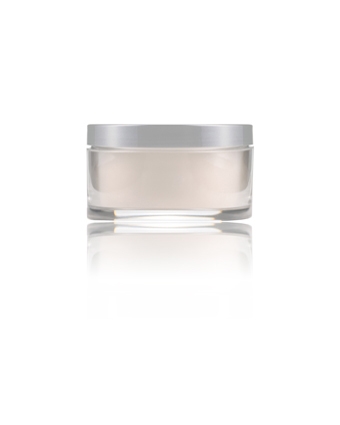 FACE atelier's Ultra Loose Powder is a micronized, finely milled setting powder that virtually disappears upon application but works all day to reduce shine and minimize pores. It sets foundation without leaving a powdery or dry finish and prevents it from shifting or wearing away. Thanks to its light, airy consistency, Ultra Loose Powder doesn't streak or dull the skin while the skin-perfecting optical blurring pigments diminish the look of fine lines, imperfections and wrinkles. Ultra Loose Powder never stops working because it's moisture, heat and oil resistant. It absorbs excess oil all day without building up in the skin's fine lines and wrinkles, providing a long-lasting and youthful finish.
Ultra Loose Powder now features a convenient twist-lock cap designed so that powder stays in the jar under the sifter - not on top! Purse, kit and travel approved!
Say hello to Blaze, the newest member of the Ultra Loose Powder family. A complex burnt yellow with a touch of mango, Blaze was specifically formulated to brighten and correct richer skin tones. It also neutralizes surface redness and dark under-eye circles.


FACE atelier's Ultra Loose Powder is pretty much perfect! It is finely milled, super smooth and pretty much disappears once on. It sets foundation without leaving me powdery or dry looking and feels very natural to the touch as well. It looked great all day and did prevent my foundation from shifting or wearing away.
iknowallthewords.com
Thanks to the silicone in the formula, light-weight Ultra Loose Powder absorbs excess oil without building up in fine lines and crevices, providing a long-lasting and youthful finish.
Moisture, heat and sebum resistant.
Key Ingredients
Trimethylsiloxy Silicate - A member of the silicone family that helps create a product that's moisture, heat and sebum resistant. It enables Ultra Loose Powder to float on the skin, as opposed to settling in fine lines and wrinkles. The unique molecular structure of silicones (larger molecules with wider spaces between each molecule) allows them to form a breathable and protective barrier between skin and the product.
Mica – A naturally occurring mineral that absorbs oil without causing visible buildup on the skin.
Use a generous amount of translucent Ultra Loose Powder under your eyes before applying your eye shadow. Excess eye shadow dust will fall onto the loose powder, and when you're done, you lightly dust away both the loose powder and the eye shadow dust.
The light, airy consistency of loose powder is preferred by many makeup artists as its less likely to streak and there's more control in application.
Application matters, and the use of a large, fluffy rounded brush - like our Powder brush - is recommended as you can better control how much powder you use. A powder puff tends to deposit too much product on your face and isn't particularly sanitary.
Gently tap the end of the brush before application to get rid of excess powder.
If you have fair skin, you can use the light or medium shade as a bronzer.
You're one step closer to owning this product!
Ultra Loose Powder has been added to your cart