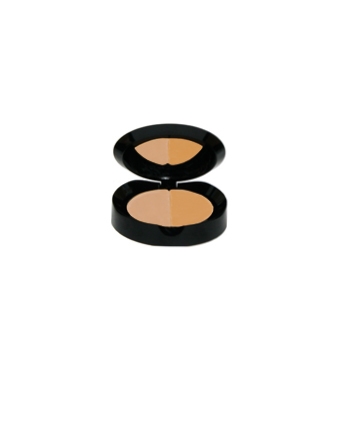 Fabulously flexible, FACE atelier's silicone-based Ultra Camouflage Duet virtually erases imperfections and those pesky dark circles that have taken up residence beneath your eyes. Each Ultra Camouflage Duet has two color-matched shades that work in perfect harmony with FACE atelier Ultra Foundation. Ultra Camouflage Duet provides long-wearing, buildable coverage. The silicone in the formula guarantees that it will not flake, dry or crack.
Meet ERASE - an innovative new shade that literally erases dark purple and blue under-eye circles and bruises. Using the mango-red shade, cover the area you want to conceal. Then neutralize it by gently covering it with the pure white shade. Really dark bruises may require you to repeat the process. At this point, you could apply a light dusting of Ultra or Pressed Loose Powder to set Erase. Regardless, that area is ready for an application of foundation or a concealer that matches your skin. Pat it on - don't swipe! Go to The PRO TIPS tab for more information.
ERASE is a must-have if you like to contour! Before applying foundation, a light layer of the white side of ERASE will highlight an area - like your cheekbones - as well as making it much easier to conceal hyperpigmentation on Caucasian skin.
This concealer is one of my faves because it has the same silicone-base as the popular Ultra Foundation. The only difference is that it's heavier and much creamier. The creamy texture is just right for concealing those pesky pimples yet not too heavy for the under eye area. I like to also use this in place of a foundation for those that have close-to-flawless skin. Good for all skin types.
makeupnthebride.blogspot.ca
I can always count on @FACEatelier products to achieve the perfect complexion! http://t.co/z12pjqhMpe #annychowmakeup #annychow

— AnnyChow (@AnnyChow) June 3, 2014
Ultra Camouflage Duet moisturizes and hydrates skin while absorbing excess oils.
Its concentrated pigment level allows for sheer to full coverage. The combination of warm and cool shades makes it possible to neutralize most skin discolorations and allows you to easily blend a shade that matches different areas of the face. Moisture, heat and sebum resistant.
Key Ingredients
Petrolatum - Petrolatum is considered to be among the most effective moisturizing ingredients available and is also known for its effectiveness in healing wounds. It can help the skin's outer layer recover from damage, reduce inflammation, and generally heal the skin. Cosmetics-grade petrolatum is considered the safest, most non-irritating moisturizing ingredients ever found.
Cetyl Dimethicone Copolyol – a member of the silicone family that imparts emolliency, and significantly enhances a product's lifespan and effectiveness. They create a soft, smooth product that is pleasant to apply and imparts a unique skin feel. It is naturally water-resistant while absorbing sebum (the oily substance produced by certain glands in the skin), reducing skin shine. Silicone molecules are larger than human pores, preventing them from settling into them upon application, and the unique molecular structure of silicones (larger molecules with wider spaces between each molecule) allow them to form a breathable barrier.
Use the warmer shade to neutralize purple and red tones in the skin. The neutral shade is best for hiding blue and brown undertones. For best results, begin with a very small amount as a little goes a long way. Then reapply or build to the desired coverage.
Gnerally speaking, use concealer after your foundation as you never know what the foundation will cover. Except if you're using Erase.
You don't need an expensive eye or lip primer when you have Ultra Camouflage Duet. A very light layer creates a long-lasting, oil and water-resistant base that won't change the shade of your eye or lip color. The slightly tacky nature of Ultra Camouflage Duet makes it the perfect primer and base before applying loose Shimmers and pigments.
HOW TO USE ERASE:
1. Using a small, synthetic brush - like our #5 Spot Concealer – apply the mango-red shade to the area you want to conceal. Pat it on – don't swipe! It's really pigmented so a little goes a long way, and you can always apply more. It should only be applied to the area that needs it so use a cotton swab to remove excess product as needed.
2. Neutralize the red shade by gently covering it with the white shade. Again, pat – don't swipe! A really dark area or bruise may require you to repeat this step. A gentle dusting of loose or pressed powder will set the first layer before re-application. Or you may want to set Erase before applying foundation or concealer over it. Remember to PAT, DON'T SWIPE.
3. Our CEO likes to spritz Face Finish to fix Erase, and uses Ultra Matte when she's concealing an area that's a bit oily. You can spray Ultra Matte after you're done or into your foundation or concealer. before application.
4. BONUS – the white shade will become your new BFF is you're into contouring. Apply it to the cheekbone area before foundation to subtly highlight that area. It also lightens hyperpigmentation on Caucasian skins and helps erase marionette lines.
Add a drop of Ultra Sheer in Champagne or Opal to create a light reflecting concealer.
Create a custom concealer shade by adding a drop of Ultra Foundation to Ultra Camouflage Duet.
For precise spot concealing, use a small synthetic brush like FACE atelier's Spot Concealer brush.
PRO ALERT – you can thin Ultra Camouflage Duet with Ultra Air to turn it into a cream.
You're one step closer to owning this product!
Ultra Camouflage Duet has been added to your cart