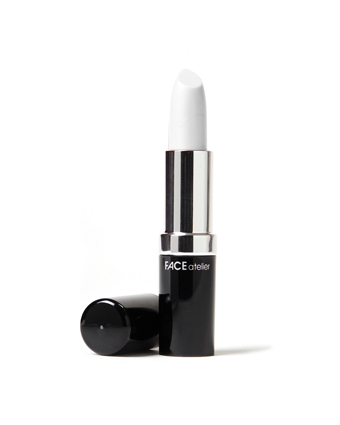 Fine lines belong in poetry, not lips! Velvety smooth Lip Putty is the ultimate lip primer, filling in those pesky fine lines in and around the lips, while eliminating colour bleeding, blurring and blotching. And it doesn't stop there! Lip Putty also moisturizes and hydrates because of its singular combination of essential oils and vitamins while providing organic ultra-violet protection. Naturally.
My favorite lip product from FACE atelier is their Lip Putty. I am thrilled with this product. You apply Lip Putty prior to using any color. It fills in lines on your lips as well as around your lip line. For me this is the way to perfect way to plump my lips. I'm not putting anything on that burns, instead I'm priming my lips therefore making them look fuller. It can be used with any lip product I have so it's extremely useful. You can even wear it alone to just moisturize and protect your lips (it has organic ultra-violet protection). There's no fragrance to it though it's loaded with essential oils and vitamins. An absolute winner in my book.
BeautyInfoZone.com/beauty
By filling in those pesky fine linee, Lip Putty aids in precision application of color lip products, reducing feathering, color bleeding. This can reduce the need for frequent touch-ups!
Lip Putty helps repair chapped lips, hydrating them while locking in moisture. It can also prevents future damage to lips. All of this improves and enhances the application of other lip products.
Key Ingredients
Cyclomethicone – A clear, odorless, silicone-based oil that is incredibly useful and versatile. It stays on the surface of the skin as the molecules are too big to physically enter past the upper living cells, reinforcing the barrier layer of skin. It effectively fills in fine lines and provides enhanced adhesion for other lip products.
Meadowfoam Seed Oil – Cold pressed from the tiny seeds of Limnanthes Alba, which produces an oil with superb anti-oxidant properties and skin softening benefits. It delivers good barrier formation, and its rich texture helps to lock in skins natural moisture to help prevent dryness and soften the skin.
Sesame Seed Oil – The Vitamin E contained in sesame seed oil acts as excellent antioxidant and thus is useful as natural UV protection. Another excellent benefit of sesame oil for skin is that it slows down skin aging. The oil has an antioxidant called sesamol which effectively prevents the appearances of wrinkles and fine lines.
Shea Butter – A plant lipid extracted from the karite tree, shea butter is a rich source of antioxidants. Shea butter's phenolics, a constituent element of polphenols, have anti-aging benefits and properties similar to green tea. Shea butter contains five essential fatty acids, (a major amount coming from stearic and oleic acids), phytosterols, vitamins E and D, allantoin (good for healing skin irritations), and vitamin A. This combination of ingredients helps neutralize free radical damage, reducing fine lines and wrinklesand fading age spots, as well as stimulating collagen production. It also it contains natural sunscreen in the form of cinnamic acid.
Allantoin – healing, moisturizing, soothing and anti-irritating agent. Allantoin produces its desirable effects by promoting healthy skin. It washes away old tissue, speeding up the growth of new, healthy tissue. An excellent common anti-inflammatory additive. The most popular applications are in the prevention and treatment of dry and chapped skin and lips.
Use Lip Putty as a fine line primer, applying it to fine lines around the eyes and mouth to achieve a smoother look. It really does fill in the cracks!
Apply Lip Putty before lipstick and/or lip glaze to prevent bleeding and extend wearability. Lip Putty is a Pro 'Must-Have' when using a bright, bold lip shade.
Outline the edge of the lip with Lip Putty using our Lip/Spot Concealer brush to create a reverse liner before applying lipstick or lip glaze. This prevents them from bleeding and feathering.
You're one step closer to owning this product!
Lip Putty has been added to your cart