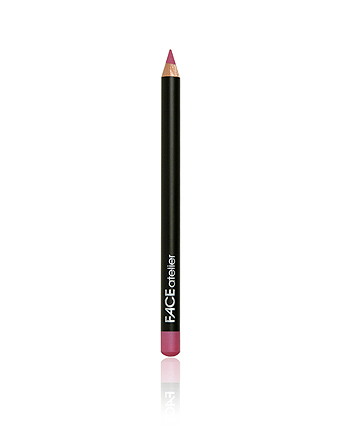 Your dream lip is a pencil away. FACE atelier's smooth, creamy Lip Pencils help line, fill and contour your lips. They're ideal for precise application, and essential if you want to shape and contour your lips.
Our Lip Pencils are vegan except for tango.
FACE atelier's Lip Pencils are available in a broad selection of usable colors that complement most lipstick shades.
There are advantages to a classic, wood-clenched pencil versus mechanical lip liners that dispense a liquid. The tip of a FACE atelier Lip Pencil can always be sharpened, which is essential to define and contour the lip with precision. The color in a classic lip pencil is dry and impervious to bacteria. And they last longer.
Lip pencils make your life easier! They prolong lip color and extend the life of your lipstick. They also decrease how often you'll need to re-apply your lipstick.
FACE atelier's #1 Rule for Lips: They're like an outfit and need to be layered! Remember that the color of your lips will affect how any shade appears on them. (It's called color theory.) Further, lip products are not meant to last forever. Layering lip pencil with lipstick and then lip glaze will give you that complex shade you've been yearning for and significantly extend the life of your lip shade.
Don't use a lip liner darker than your lip shade. As it fades, you're left with an unflattering outline - the cosmetic equivalent of a panty line.
Fill in the whole lip – just don't outline. Lipstick will last longer and fade more evenly.
Oops – your pencil slipped and you lined your skin. Don't panic! A quick swipe of foundation will usually clean it right up.
Lip Pencils add depth to any lipstick shade. Starting with a sharpened pencil, line the lips but don't press down too hard. Then angle the pencil and use the side to fill in the rest of the lip. Be sure to fill in the whole lip. This creates a base for the lipstick, ensuring that it will last longer and fade more evenly.
You lip liner doesn't have to match your lip. You can bring new life to an old lipstick by pairing it with a complementary but different shade of lip pencil. Don't be afraid to experiment. For example, a brown-based lip pencil will deepen a red lipstick and reduce its brightness. A pink pencil will subtlety alter the shade of a coral lipstick.
Look for lipstick trends but don't be a slave to colors that may not suit you. The re-emergence of the bold red lip really means that precise, lined lips with a matte lipstick are back in fashion. But a bold lip doesn't have to be red – it could be purple, pink, plum – whatever strikes your fancy and more importantly, whatever suits your style!
You're one step closer to owning this product!
Lip Pencil has been added to your cart