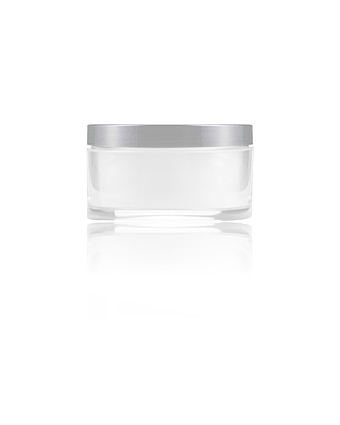 FACE atelier's new Glass Skin Water Powder is an innovative and unparalleled multi-tasker that delivers hydrated, smooth, blurred, luminous skin. The cutting-edge formula melts into the skin and starts to work immediately – cooling, hydrating and mattifying while delivering a flawless finish. Weightless and colorless, it is suitable for all ages, skin tones and skin types. Glass Skin Water Powder performs brilliantly on mature and troubled skin as the hydrating effect ensures it won't settle into wrinkles and imperfections. Moisture, heat and oil resistant, it is also vegan and cruelty-free.
HOW IT WORKS
Microencapsulation ensures the safe delivery of sensitive and key ingredients including water that is enclosed within hollow spherical particles. They are released upon application, creating the unique, refreshing powder-to-liquid effect.
Hydrating superstars glycerin and sodium hyaluronate (a form of hyaluronic acid) cool and hydrate by pulling moisture from skin's deeper levels. This helps maintain healthy-looking skin while decreasing the appearance of wrinkles and dryness without increasing sebum levels.
Multi-tasker methyl methacrylate crosspolymer absorbs oil, mattifies and blurs. Its spherical particles diffuse light and are responsible for the remarkable soft-focus optical blurring effect.
SAFE BEAUTY ALERT Our smart loose powder jar features a rotating locking sifter for controlled, no-spill and hygienic dispensing. Perfect for travel and a makeup kit IF you remember to lock the sifter before hitting the road! We never recommend using a powder puff or any tool that is unable or unlikely to be cleaned on a regular basis.
Hydrating
Mattifying
Soft-focus optical blurring
Non-comedogenic
Vegan + cruelty-free
Moisture, heat + sebum resistant
Oil + fragrance free
KEY INGREDIENTS
Glycerin is a natural ingredient that is also found in the outermost layer of our skin and acts as a skin replenishing and restoring agent. It is present in all natural lipids (fats) and is usually manufactured synthetically for use beauty and skin care products. It is a powerful humectant - a moisturizing ingredient that pulls water into skin's outer layer from deeper levels of skin and the air. It is one of many substances that helps maintain healthy looking skin by sustaining its moisture level. A hydration superstar, glycerin is most effective when combined with other hydrating and emollient ingredients like dimethicone and sodium hyaluronate, listed below.
Methyl Methacrylate Crosspolymer is a multi-purpose synthetic ingredient that can be used as an absorbent, a mattifier as well as a texture-enhancing ingredient. Its porous spherical microbeads give products an elegant, silky texture. It scatters light, reducing the look of fine lines, pores and imperfections. It is valued for its ability to absorb excess oil and reduce shine, resulting in a more matte finish. It was evaluated by the Cosmetic Ingredient Review Expert Panel and reaffirmed safe for use in cosmetic formulas. (Cosmetic Ingredient Review, January 2019, pages 1-42)
Dimethicone is a form of silicone and one the most frequently used emollients, known for its effectiveness and gentleness. Noncomedogenic, it forms an air-permeable barrier that works to retain moisture while allowing perspiration to evaporate. It is considered a safe ingredient with few to no side effects.
Sodium Hyaluronate is a form of skin-replenishing hyaluronic acid that can reach the deep layers of your skin. It is a smart ingredient that attracts moisture, helping skin maintain water balance - key to healthy looking skin. It also reduces inflammation and when applied topically, is excellent for reducing dryness and the appearance of wrinkles.
Terminalia Ferdinandiana Fruit Extract is derived from Kakuda plum, a fruit native to Australia. It is rich in antioxidants and is the highest natural source of vitamin C in the world. Other notable compounds found in the extract include gallic acid, vitamin E and lutein. The powerful antioxidant properties are known to revive, repair and rejuvenate the damaged skin and may help protect against inflammatory diseases. Research also indicates its antioxidant or ORAC rating is extremely high and delivers a strong defence for the skin against environmental stressors. 7 Health Benefits of Kakadu Plum (healthline.com)
Ethylhexylglycerin is a natural preservative that serves as a skin-softening and hydration-boosting agent. It's used as an emollient and humectant in cosmetic formulation.
INGREDIENTS
AQUA, PROPAENDIOL, GLYCERIN, SILICA, SILICA SILYLATE, METHYL METHACRYLATE CROSSPOLYMER, DIMETHICONE, CYCLOPENTASILOXANE, POLYSILICONE 11, NYLON 12,
MICA, PEG-10 DIMETHICONE, POLYSORBATE 40, POLYMETHYLSILSESQUIOXANE, ISOHEXADECANE, AMMONIUM POLYACRYLOYLDIMETHYL TAURATE, SODIUM HYALURONATE, GLUCONIC ACID, TOCOPHEROL, SODIUM BENZOATE, PHENOXYETHANOL, MAGNESIUM ALUMINUM SILICATE, HYDROXYETHYLCELLULOSE, EHTYLHEXYLGLYCERIN, TERMINALIA FERDINANDIANA FRUIT EXTRACT [+/ TITANIUM DIOXIDE, TIN OXIDE, IRON OXIDE]
HOW TO USE IT
Shake a small amount of powder into the lid or onto a palette.
Apply with a brush that is dense or has a flat surface, like our Large Flat Powder Brush. Pat evenly onto and work into the skin. Use a smaller brush like our Angled Blending Brush or Eye Shader Brushes for spot application.
Our Pro Team recommends testing it on the under-eye area - that skin is often a different texture, especially as it ages. Also, a mattifying effect under the eye may accentuate the fine lines that are often found there, regardless of your age.
To mattify foundation, add a small amount directly into it. Mix lightly with your foundation brush before applying. The mattifying effect is controlled by how much powder is added. Start with a little and guild as needed.
Glass Skin Water Powder can be applied before applying foundation. It may also be applied after makeup. The mattifying effect is noticeably increased when it is applied after makeup. Spot apply it through the day to mattify break-though oily areas without build-up. When applying after makeup, lightly pat it onto the skin so the finish isn't disturbed.
OILY SKIN ALERT The mattifying effect also helps control oil, keeping shine controlled while increasing the wear time of your makeup.
You're one step closer to owning this product!
Glass Skin Water Powder has been added to your cart