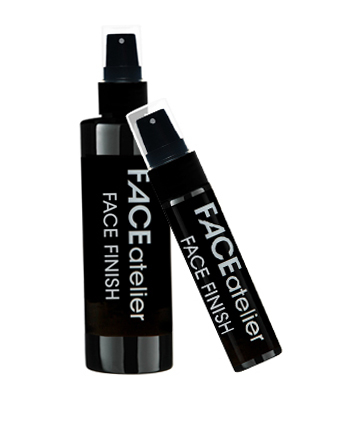 USE IT OR LOSE IT! Face Finish is a high performing setting spray and an ideal way to finish your face. This hydrating, alcohol-free mist with the faint scent of freshly cut cucumbers will preserve your makeup all day long.
Use Face Finish prior to makeup application to reduce redness and puffiness while soothing and hydrating the skin. This results in an improved appearance and helps the blendability of products subsequently applied.
Face Finish eases redness in the skin and helps reduce inflammation. It improves the skins clarity and adds a "dew" to the skin. It extends makeup wear and can be used all day long to hydrate the skin while preserving and freshening your makeup.
Key Ingredients
Cucumis Sativus (Cucumber) Fruit Extract - A cooling, healing agent that soothes irritated skin and reduces redness. It's composed of 90% water (cooling action), amino acids, proteins, lipids, and Vitamin C that serve as an antioxidants that help soothe, calm skin irritation, and relieve puffy skin. Some of the minerals found in it are magnesium, potassium and silica. The silica helps reduce wrinkles and fine lines by tightening collagen. This extract also acts as an anti-inflammatory and its moisture-regulating qualities make it perfect for revitalizing and hydrating the skin.
Aesculus Hippocastanum Extract - Its venotonic effect provides vascular protection, aiding circulation to reduce swelling. It also has anti-inflammatory and free radical scavenging properties.
After a long day, a spritz of FACE Finish will freshen your makeup while hydrating your skin.
Face Finish is great choice for anyone with troubled skin as the Cucumis Sativus Cucumber Fruit Extract (see Benefits) in the formula is an anti-inflammatory that also reduces redness while cooling the skin.
You don't need to be wearing makeup to use Face Finish. Chilled, it's the perfect drink for hot, thirsty skin.
BRIDAL ALERT - Makeup is applied at 9 am but you don't walk down the aisle until late in the afternoon. What's a bride to do? Make sure that Face Finish is nearby! A light application refreshes your makeup - including eye shadows - to ensure your makeup remains fresh, camera ready and picture perfect long into the night.
You're one step closer to owning this product!
Face Finish has been added to your cart