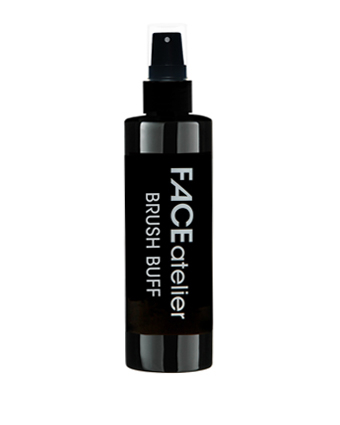 Three products in one, Brush Buff is a quick-drying brush cleanser that disinfects and conditions while it cleans. It's specifically designed to extend the life of high quality brushes. The spray applicator is convenient, easy to use and excellent for travel.
Brush Buff cleans, conditions and disinfects, and extends the life of brushes. The alcohol-free formula helps keep the bristles of your brushes soft and supple.
Key Ingredients
Propylene Glycol – A clear, colorless liquid that has superb permeation and excellent humectant properties. It also softens and moisturizes.
Wash your brushes regularly! A dirty brush isn't good for your cosmetics or your skin. Clean them frequently to ensure hygienic tools and makeup.
The number #1 rule in cosmetic safety is never share your brushes because it's unsanitary. Shared brushes may transfer bacteria from the skin and eyes. If you must share, then clean the brush before you use it – especially eye and lip brushes. Read more about makeup safety.
Brush Buff is perfect if you use the same brush with different shades of eye shadow. Spray a tissue with Brush Buff, then swipe the brush over the moistened area. This will ensure that the brush is clean and dry, eliminating the transfer of pigment from one shadow to another.
You're one step closer to owning this product!
Brush Buff has been added to your cart